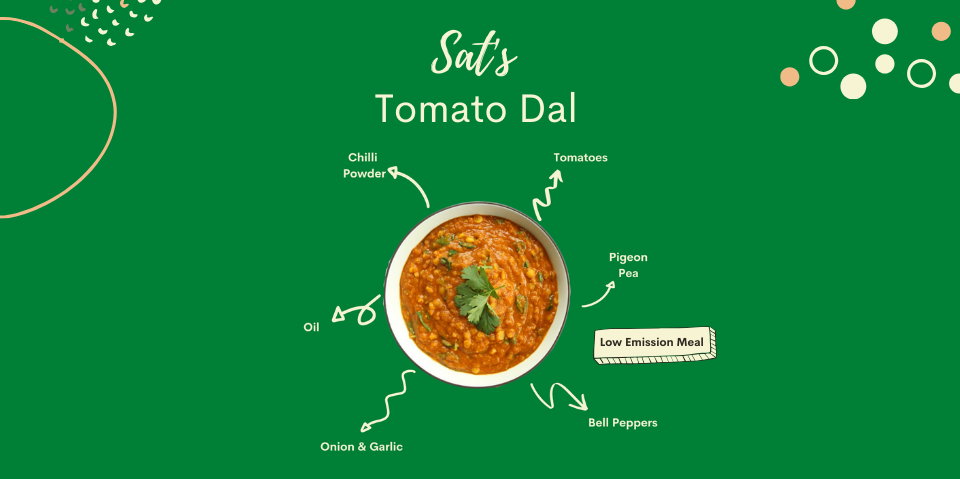 Tomato Dal
---
Prep time: 5 minutes, Cook time: 30-50 minutes, Servings: 4
Ingredients:
Arhar dal (tuvar dal, pigeon pea lentils): ½ cup
Oil or ghee: 2 tbsp
Cumin seeds: ½ tsp
Onion: 1 medium size
Curry leaves: 10 to 12
Ginger-garlic paste: 3 tsp
Tomatoes: 2 medium-sized
Red chili powder: ¼ tsp
Turmeric powder: ¼ tsp
Asafoetida (hing): A pinch
Water: 2 cups
Salt: To taste
Steps:
Cook the dal, either in a pressure cooker for three whistles, or you can do this in a saucepan -use enough water to cover the lentils by two inches. Bring to a boil, cover, lower the heat to a simmer and continue cooking 20-40 minutes or until the dal is very tender. Add more water if needed to the pot. when the dal is cooked, whisk to make it creamy or give it a whirl in the blender. Set aside.
Heat the oil in a saucepan.
Add the asafetida and cumin seeds. When the cumin sputters, add the curry leaves and onion and sauté on a medium flame until the onions turn translucent. Add the ginger-garlic paste and stir for a minute.
Add the tomatoes along with the turmeric, red chili powder, and cook, occasionally stirring, until the tomatoes turn mushy and start breaking down.
Add the cooked dal and salt to taste. Bring to a boil and then let it simmer on low heat for about 10 minutes until the flavors have merged. Add water if the dal gets too thick.