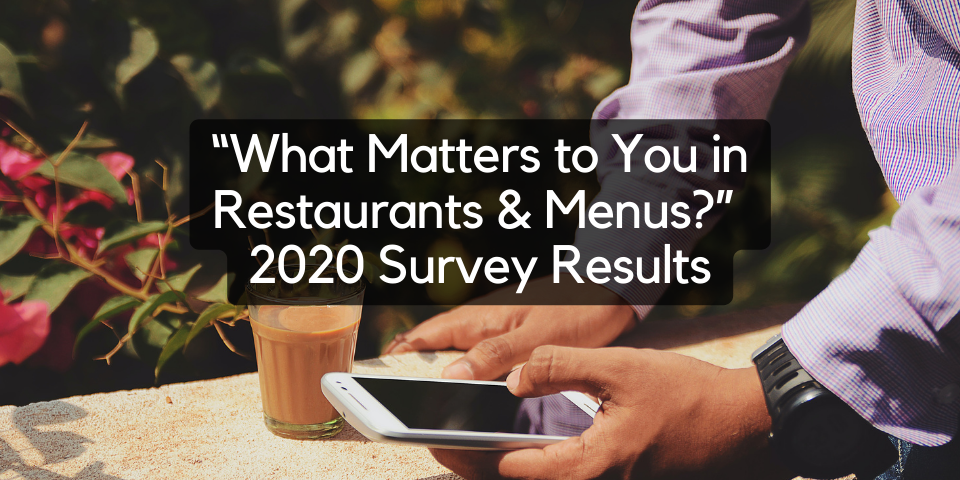 "What Matters to You in Restaurants & Menus?" 2020 Survey Results
---
In late 2020, we conducted a public online survey with close to 300 residents in the Lower Mainland to learn more about what matters to them in restaurants and menus.
About the Surveyed Population
The largest age group of the respondents were between the ages of 18 to 24 (42%), followed by ages 25-34 (33%). Over 50% of respondents have a dietary restriction, defined as eating a vegan, vegetarian, pescatarian or flexitarian diet (figure 1). When cross examining the two tables, the younger the age bracket, the less percentage of omnivores there are.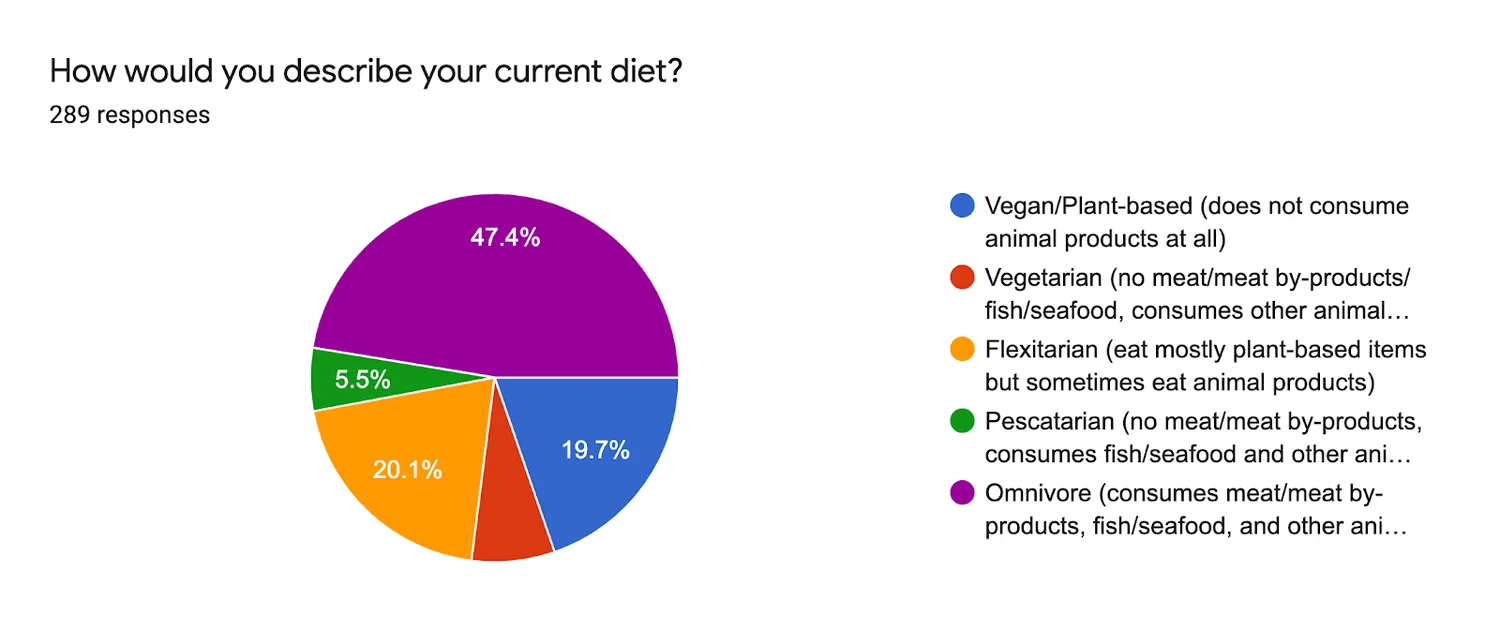 Figure 1: Diet of Respondents
What Matters to Customers When Selecting a Restaurant and Ordering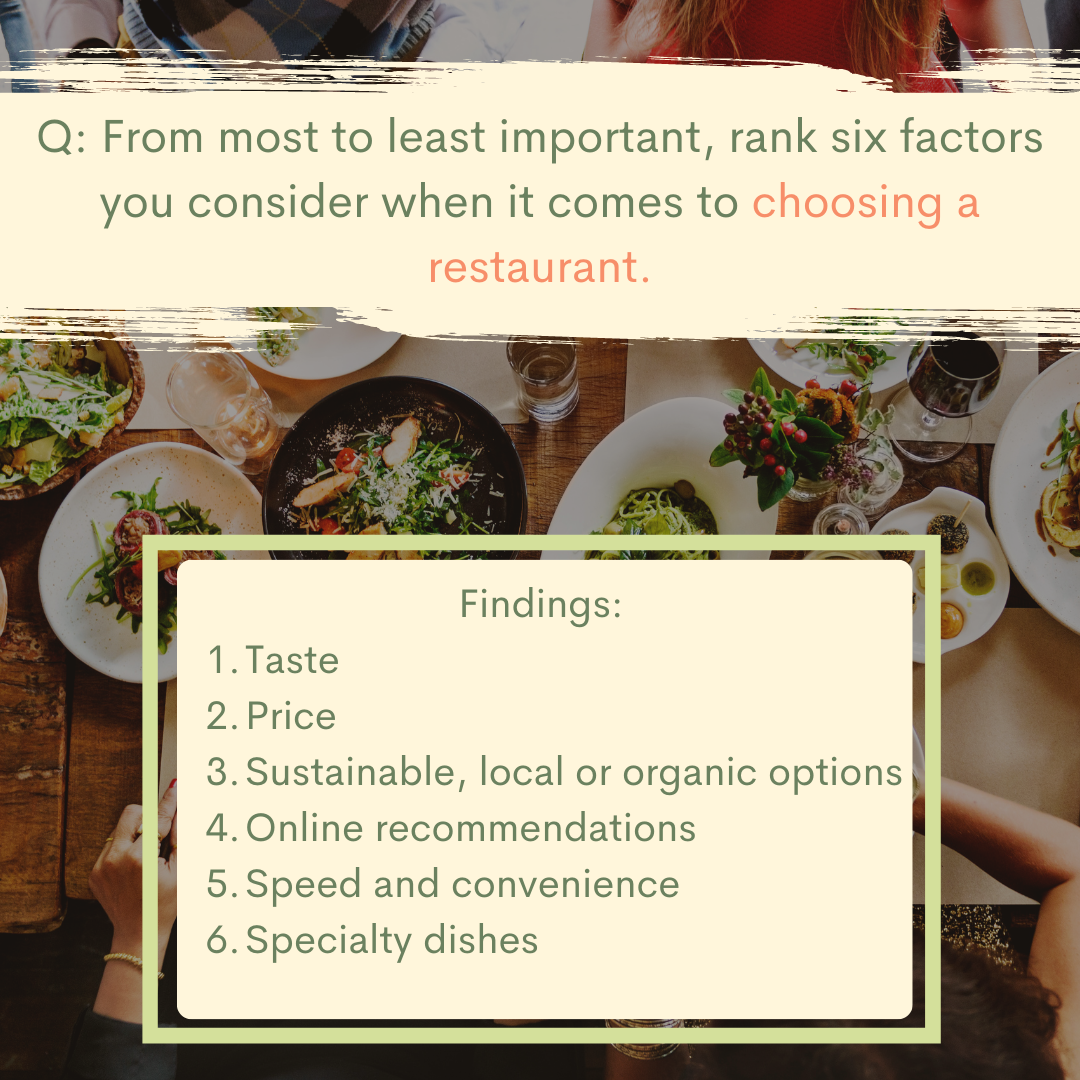 What Matters When Choosing What to Order on the Menu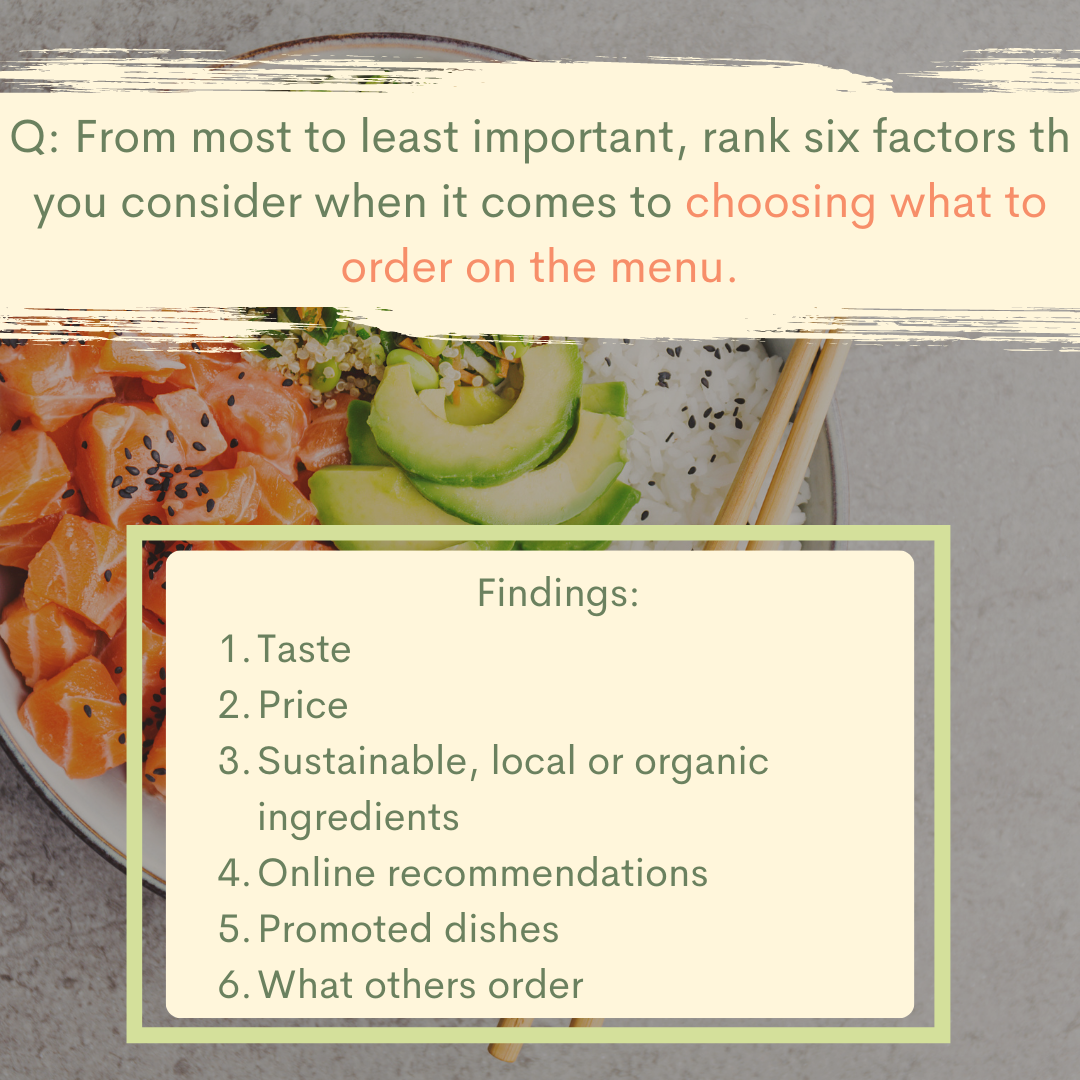 This is a surprisingly positive result because it shows that people are actively factoring sustainable, local, and organic options into their decision-making. Besides offering delicious meals at a reasonable price, people are voicing that they want to have sustainable, local, and organic options over online recommendations, speed and convenience.
The significance of this result is that restaurants can use this information to strategize how they plan to grow a loyal consumer base and adapt to changing consumer demands. Restaurants can consider investments in providing more sustainable and attractive menu options or communicating their sustainable values to customers.
How Much Do People Care About the Environmental Impact of a Restaurant?
When selecting a restaurant, 80% of respondents consider the restaurant's environmental practice (eg. energy efficiency, water saving, minimal single-use packaging). When ordering from the menu, over 57% of respondents consider the dishes' environmental impact (eg. low carbon footprint ingredients).
How Available is Information on the Environmental Impact?
Overwhelmingly, 93% of respondents feel like information on the environmental impact of their food choices is not available in restaurants. If such information was available, 86% would consider this information to make more sustainable decisions. If a restaurant were to offer such information, 96% would have a more favorable perception of the restaurant. Customers agree that this favorable perception would be shown as increased loyalty to the restaurant, more frequent visits, recommending the restaurant to others, and promoting the restaurant on social media.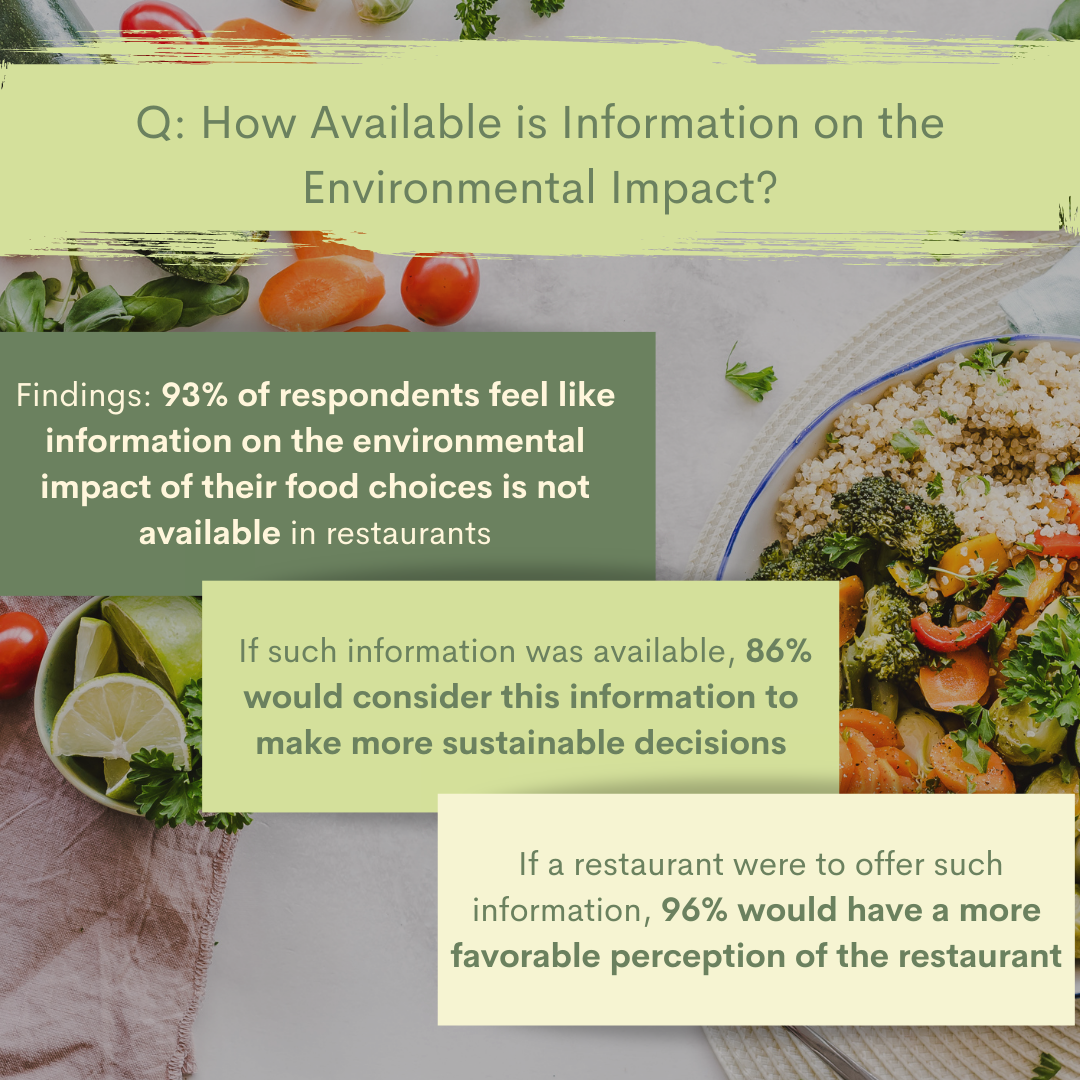 Takeaway
Today's customers are evolving with growing demands. Along with increased environmental awareness and climate education, they want to know where their purchases come from, how they are produced and how sustainable they are. Since COVID 19, people have become more vocal in their community, as well as more politically active and environmentally aware. With the data from this survey, we feel even more certain in the change we're trying to make.
From Lighter Foodprint's perspective, we were delightfully surprised to find that 57% of respondents already consider the dishes' environmental impact as they are the ones who would be the first to benefit from having the data made available through our climate labels. In addition, learning that 86% of respondents said that they would use this information to make more sustainable decisions is a big conviction to support our mission in lowering food's impact on the climate.
This survey allowed us to learn more about the Vancouver consumer demographic and we are grateful to all those who participated! Thank you again for your support and we look forward to closing this information gap in our community by introducing climate labels in our community.
If you are a restaurant and interested in our climate labels, please don't hesitate to reach out! We are seeking pilot locations. Otherwise, subscribe to our newsletter or social media platforms to keep in touch!